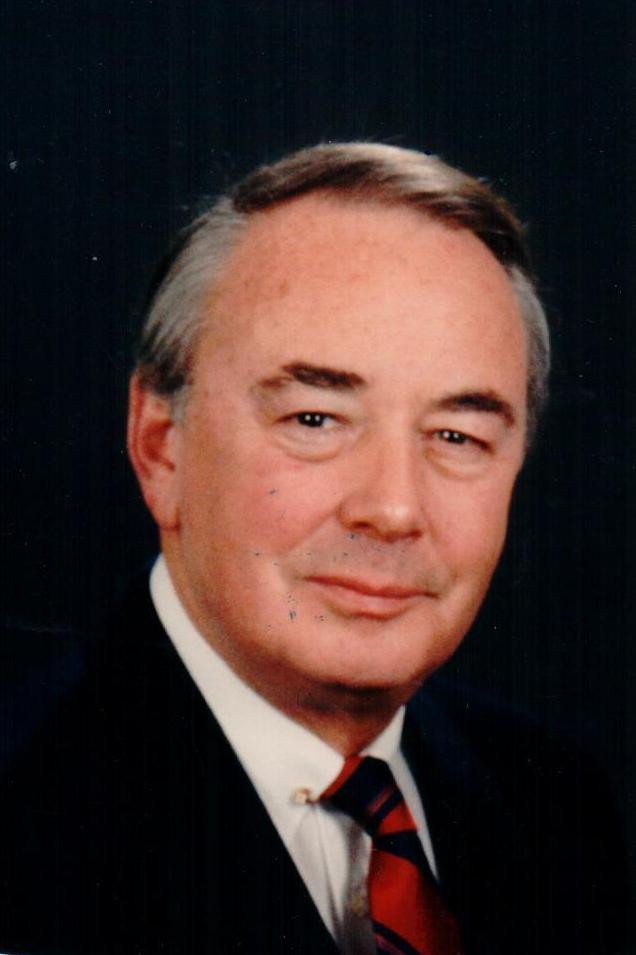 The death occurred at Algonquin Grace Hospice, Huntsville on Wednesday, August 27, 2014 of Dr. Lynn Sargeant of Huntsville.
Visitation will be held at the Mitchell Funeral Home on Friday, August 29th from 2-4 & 6-8 pm.
Funeral Service for Dr. Lynn Sargeant will be held at All Saints' Anglican Church, 30 High Street, Huntsville on Saturday, August 30, 2014 at 1 p.m.
Obituary: Dr. H.L. Sargeant
It is with great sadness that we announce the death of Henry Lynnwood Sargeant in Huntsville, Ontario.  Strong father, respected physician, accomplished musician, and community builder, he was surrounded by family and friends when he passed away on August 27, 2014.
Dr Sargeant was predeceased by his eldest son, Lane, in 1975, and by his wives Jean (nee Thomas) and Gail (nee Goodwin). He is survived by his children Cynthia (James) Walker, sons Kent (Odile), Todd (Sandy), and Blair (Pat). He is also survived by grandchildren Victoria Kuzma, Thomas Kuzma, and Stephanie (Jon) Longpre (Cynthia); Elizabeth and Jean-Phillip (Kent); Kailey and Lane (Todd); and Benjamin and Samantha (Blair), as well as six great-grandchildren.
Dr. Lynn Sargeant was born and raised in Sault Ste. Marie, Canada, the third child and pampered only son of a close-knit family.  At age 8 his near-fatal bout with pneumonia in the pre-penicillin age led to two fateful outcomes. The curative prescription was for him to blow vigourously on a wind instrument, resulting in a lifelong devotion to the trumpet and music. Second was a desire to become a physician himself.
In Dr Sargeant's musical family, his precocity with his trumpet was his medium into many social and community endeavours. In Grade 13 he was hired to replace the music teacher, and in that same year he wrote, produced and directed a school variety show – in addition to his ongoing dance, theatre, and music competition work. Two summers were spent in the 'house band' on the Keewatin, a Great Lakes passenger ship.
At Queen's University Lynn spent his first years studying towards his BA degree while awaiting entry into medical school. In that time he was appointed the first student Bandmaster at Queen's, serving as Director of Queen's Brass Band for 7 years. Dr. Sargeant graduated with a B.A. and an M.D. in June 1954. After internship in Niagara Falls, New York, he began internal medicine residency in Boston where he was a fellow at the prestigious Joslin Diabetes Centre in affiliation with Harvard Medical School. His research included work on the development of an oral insulin substitute. He co-authored 'Effect of Sulfonylurea Compounds in Diabetic Children' published in the New England Journal of Medicine (1957).
During his final year of Residency at the Henry Ford Hospital in Detroit, work visa rules required him to return to Canada for a few months.  He came to Huntsville in the summer, 1958, for an intended six month locum in general practice. Within weeks he was asked to direct the newly formed Muskoka District Band.  Within months it was apparent that Huntsville was an idyllic place to settle and raise a family. A return to the U.S. would be a path not taken. Although not trained as a general practitioner, Dr. Sargeant developed a large practice. Once again, musical opportunities for him kept coming.  In addition to leading the Muskoka District Band, he wrote, produced, and directed 2 Minstrel Shows (1961, 1962) and 4 Rotary Reviews (1964-1968) for the Rotary Club.  These were community variety shows with singing, dancing, skits and routines involving hundreds of people.  In 1968, he was elected Chairman of the Huntsville Board of Education.
After 10 years of general practice, Dr. Sargeant moved to Toronto where he finished his fourth year of residency at the Toronto General Hospital.  He returned to Huntsville in the fall of 1969 as the first Internist in Huntsville, the only one in Muskoka until 1975. He conceived, proposed, lobbied hard for, founded, and directed the Special Care Unit (now called Intensive Care Unit) at the Huntsville & District Memorial Hospital – a first in Ontario for a hospital with less than 100 beds. One year later, he did it all again for the South Muskoka Memorial Hospital in Bracebridge and he was sole director of both Units for 5 years. He lectured many times in Northern Ontario about SCU organization by invitation of both the Ontario Medical Association and the Ontario Hospital Association.
In 1989, he was appointed and served as Chief of Staff for HDMH.  At the age of 60, he completed training to read Echocardiograms with mobile equipment, which he did for Huntsville, Bracebridge, Parry Sound, Pembroke, Kapuskasing and Timmins. He retired from clinical practice in 1988 and from medicine entirely in 1998. He served on the Board of Hospice Huntsville from 2001 – 2005.
Through these years his love of and commitment to music and to his community continued. Through the 1970's and 80's he co-produced and was musical director of 17 annual Broadway shows for the Rotary Club. He founded the barbershop group The Muskoka Music Men in 1990. He directed the Muskoka District Band for 25 years.  He founded and conducted the Muskoka Big Band for 32 years, always pleased to be asked to play for a cause. His commissioned song for Huntsville's Centenary was performed at the festivities and then encapsulated in the cornerstone of Town Hall in March 1986. 
Dr. Sargeant was the recipient of innumerable awards and accolades from professional and community organizations. In 1995, Huntsville High School created an award in his name which he presented each year to a promising music student. In 2011, the Northern Ontario School of Medicine created an educational bursary in his honour.
Besides these many accomplishments, Lynn managed to enjoy his many friends through tennis, sailing, hunting, and fishing. He was an uncompromising, card-counting bridge player.
Whether known as Dr. Sargeant, 'HL', Lynn, Dad, or his shinny moniker 'Rozmenko', he lived his family values: hold integrity without rancour, do your best, persist in what is right, and contribute to your community. In short: leave the world a better place for having lived.
The family expresses deep gratitude to Dr Chris Kwiatkowski for his devoted attention, and to the staffs of Chartwell Retirement Home and Algonquin Grace Hospice for their compassionate care.  In lieu of flowers, donations in Lynn's name may be made to the Algonquin Grace Hospice or to his NOSM Bursary fund.