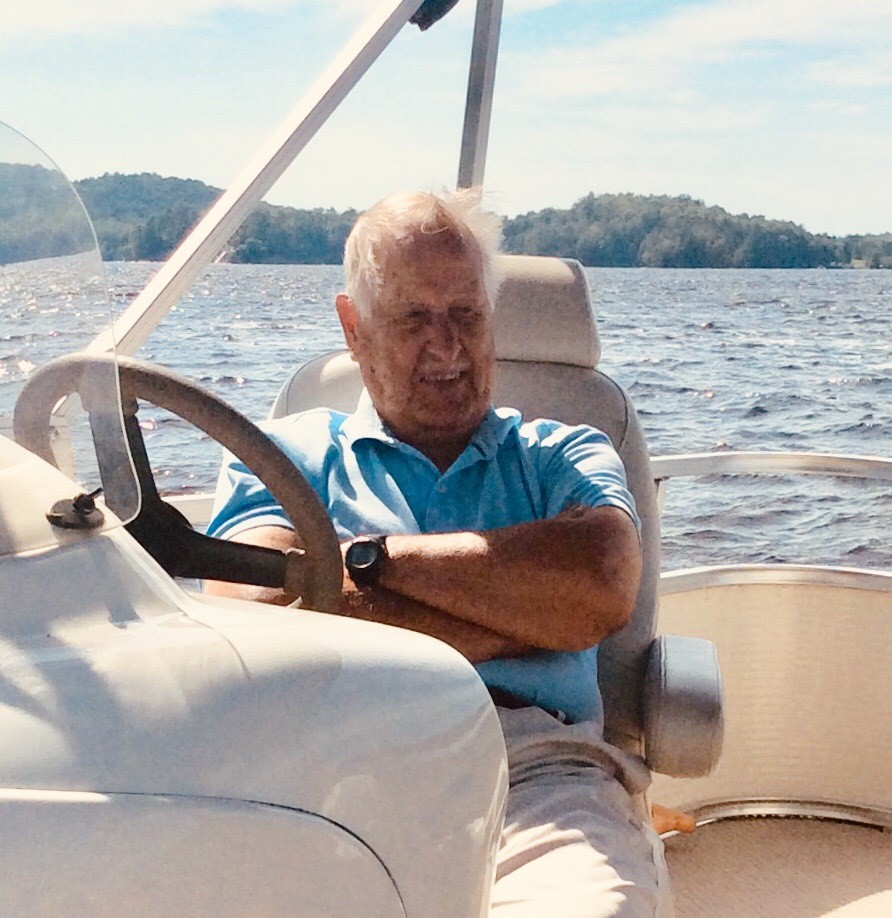 Jack William Crosby
January 1, 1930 ~ December 17, 2018
On December 17, 2018, Jack William Crosby left this world a sadder place.
Two women were lucky to have had him for a husband and best friend. Marjorie 1949 – 1991.  Shirley 1993.
Loving father to Jack (Julie), Scott (Sharon) and father-in-law to Susan.
Bonus father to Heather Wolfe, Nancy Salerno (Carmen) and Jennifer Mattar.
Super Poppa to Cameron Crosby (Lori), Patrick Crosby (Karen), Andrew Crosby (Jasmine), Tyler Crosby,     (Rachael Grice),  Jocelyn Crosby (Joel Quenneville), Kaitlyn Sega (Justin), Matthew Salerno, Olivia Salerno, Joseph Wolfe, Sydney Wolfe.
Great Poppa to Kacy Crosby, Hudson Crosby, Frederick Crosby, Hugh Quenneville.
Jack founded J.W. Crosby Advertising and ran it for 28 years with his Partner George North and wife Marjorie.  He left it for son Scott to carry it on as Holland and Crosby retiring in 1995 to travel the world with Shirl.
He enjoyed cottaging in Port Sydney and in 1995 he bought a cottage on Mary Lake where he loved all the joys of boating, fishing and family fun.
Golfing was a big part of that fun and he enjoyed the time spent playing it at the cottage with friends and family and in Palm Desert California in the winter months.
He also looked forward to the annual Crosby family Golf Tournament when he played with his sons and grandsons.
Jack was a proud member of Thistletown Lions Club. He served in many capacities, several as president and in 1988 served as Governor of A7…
He was a strong determined man and " just got things done", earning him the nickname " action Jackson"…
He was one of a kind and will be dearly missed…
A Celebration of Life is being held for Jack on Friday June 14th at Pine Lodge Muskoka, 484 Muskoka Road #10, Port Sydney Ontario.. 705 385 2271..from 2pm to 5pm… please bring all your memories, stories and pictures of Jack for all to share…
Donations to Alzheimer Society Muskoka would be appreciated.
Please revisit www.mitchellfuneralhome.ca as details are confirmed.