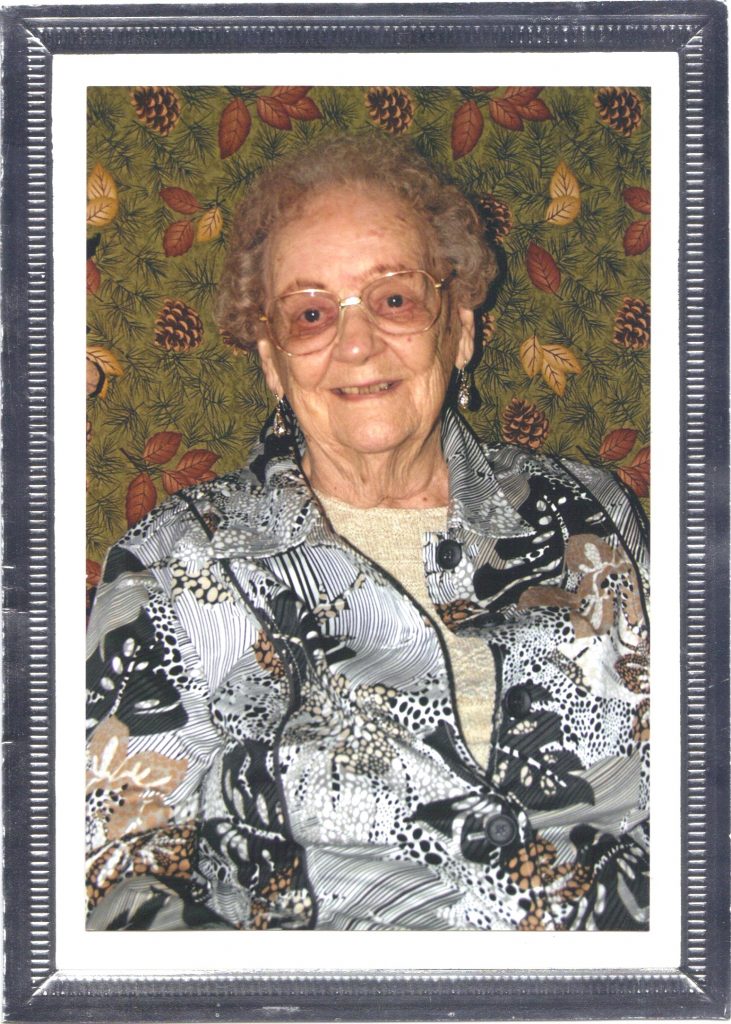 The death of Laura Clarke occurred peacefully on August 12, 2011 at the Huntsville District Memorial Hospital in her 99th year.  Laura was born February 18, 1913 to Francis Alexander Jennings and Mary Ethel Beatrice Blackman at the little farmhouse in Brunel Township.  On October 16, 1933, Laura married Victor Clarke of Port Sydney.  Predeceased by her parents, her husband Victor Clarke and her siblings, Violet Jennings, Letitia (Chuck) Fernley, Mary (Clare) Kindree, Norma (Ted) Pyatt, Jean (Lorne) Farnsworth & Bill Jennings.  Laura is survived by her sister-in law, Glenna (Jennings) Stanyer.  Aunt Laura will be greatly missed by her many nieces and nephews from the Jennings, Clarke, McIlroy, Kindree, Farnsworth, Fernley and Pyatt families, and also Mary McRae her faithful helper and friend for many years.
 Laura attended Shaw's School of Business in Toronto in 1933.  While working at Muskoka Lodge for the summer, she met Victor when she and some other girls rowed over to Port to the ice cream parlour.  The romance began and Laura and Victor married later that Fall.  They renovated their house calling it "Victoriah Villa" on Muskoka Road 10 in Port Sydney and operated a tourist business there for twenty years, providing room and board to their guests. The house is still being operated by others as a bed and breakfast.  
 Laura was known for her culinary skills and hospitality.  She also loved to help with the Thanksgiving Turkey Suppers at the Port Sydney Community Centre.  She and Victor spent many hours in their huge garden, and she took pleasure in sharing many meals with others over the years. Hard work was turned into enjoyment as was evidenced by the many gifts of quilts, Christmas ornaments, paintings, drawings and other items which she made with love and gave to family and friends at Christmas or birthdays and anniversaries.  She and Victor worked together on quilts which they donated to bazaars for fundraising to support the Christ Church in Port Sydney and the community center in her little community.  Of late her favourite gifts were hand-painted watercolour cards which she gave to friends and family depicting scenes from nature, which will be treasured.  She belonged to the ACW (Anglican Church Women) and sang in the church choir, even making the gowns for the choir.  For many years Laura wrote the local village news column for the Bracebridge Examiner and the Huntsville Forester.
 Her husband Victor passed away in 1992, leaving her a widow after 58 years of marriage.  Laura spent her last eight years at the Country Moments Retirement Home in Huntsville.  She loved to attend the Muskoka Seniors dining club on Tuesdays and played euchre on Thursdays.
 She will be laid to rest with her husband, Victor, in the Stephenson Township Cemetery, Port Sydney .   A Memorial Service will be held at Christ Church in Port Sydney on Tuesday, September 20, 2011 at 1pm.  In lieu of flowers, donations to Huntsville Hospital Foundation or Christ Church, Port Sydney, would be appreciated.