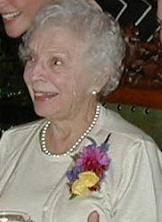 Passed away July 12, 2018, in Huntsville, Ontario, aged 102.
Mary was predeceased in 1994 by George Herbert Johnson, her husband of 53 years. Loving mother of John Edward (Sharon Vance) of Montreal and George Paul (Caroline Mackenzie) of Port Sydney. Devoted grandmother of Mollie Patricia (Edward Morgan) of Ottawa, Constance Mary (Michael Carmichael) of Toronto and Stephanie Pauline Alexandra, also of Montreal, and cherished great-grandmother of John, Marta, Mackenzie and Isabel.
Mary was born in Petrolia, Ontario, on June 22, 1916, the daughter of Abraham Silas Code and Isabel Evelina Gibson, and grew up in nearby Alvinston where she revelled in rural small town life and made several close life-long friends. She received her BA in English and History from University College at the University of Toronto in 1939, worked at London Life and in 1941 married George, then a Lieutenant in the Signal Corps. Following his return from overseas they began a family and moved to Port Credit, Ontario where she co-founded the Art Loan Society, served as President of the local University Women's Club and wrote a regular column in the Port Credit Weekly. With her sons away at university, she taught high school English at St. Mildred's Lightbourn School as well as at Lorne Park and T.L. Kennedy Secondary Schools. Following his retirement, she and George enjoyed winters at Vero Beach, summers at Port Sydney and travels in Italy. She lost her brothers, RCAF Pilot Officer John Edward Code in August 1944 and Richard Gibson Code to cancer of the brain in October 1971.
Throughout her long life, Mary put the accent on education, integrity, good manners, common sense and above all, (her mantra) "moderation in all things". Her many friends and her family enjoyed her sparkling personality and her love of literature. And until she lost her sight in 2006, she was an energetic practioner of the gracious but lost art of the handwritten letter and thank-you note.
Her family wish to thank Lynda West of Time Together, the compassionate staff of Muskoka Landing and the devoted Huntsville Dr. Paul Bastedo for their commitment to Mary and her family in her final years.
Funeral service at Christ Church (Anglican), 45 Christ Church St, Port Sydney, Ontario
P0B 1L0, on Monday, July 16 at 11:30 a.m.
In lieu of flowers, please consider a donation to Christ Church Port Sydney, the Huntsville Hospital Foundation or the charity of your choice.