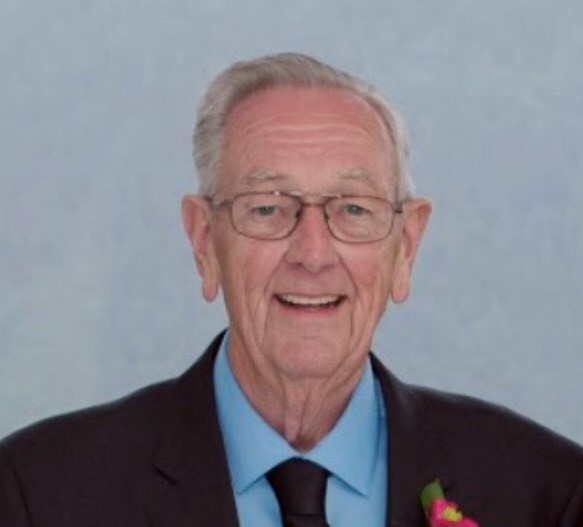 Family, friends and neighbours are warmly invited to a celebration of the life of Roger Campbell of Port Cunnington, to be held at Trinity United Church, 33 Main Street East, Huntsville, on Sunday, October 22, 2017, starting at 1pm.
Roger described his childhood as idyllic growing up at Port Cunnington Lodge, living on the water, playing with lodge guests, friends and family members, enjoying both summer and winter sports, but especially loving his horses and working around the family riding stable.
At 21 he joined the OPP and was stationed in Powassan for 16 years.  Here he and his wife Jackie were happy, raising their two small children and enjoying the social advantages of a friendly small town.  They purchased a cottage on Jessop's Island on Lake Nipissing so his family could enjoy fishing, swimming, and running freely across the island with the neighbouring children in complete safety.
When the choice came between moving further north with the OPP or returning to Port Cunnington to take over his father's business, the decision was clear.  They moved south, built a home on his grandfather's property and took over Campbell Bus Lines, which at that time consisted of two buses.
Things began to change as Roger slowly acquired more buses, and a new daughter, Sarah, entered their lives completing their family,
As the years progressed, the joy of winter was diminished by constant bus repairs, done outside, on his back, in minus degree weather and Roger became a fan of Florida, loving the heat, sunshine and palm trees.
By this time Michelle had spread her wings to Canada's west coast, but Dean had joined the family business, starting at the bottom, washing buses and progressing upwards, to become the driving force behind Campbell Bus Lines, Huntsville Transit and most recently, extended interests in Kawartha and Haliburton.
On April 28th last year, Roger Campbell entered my life as someone other than a former customer.  We chatted about our lives, the love we had for our children and our pride in their accomplishments, and the joy of our grandchildren.  We spoke of the commitment and dedication of 47 years of marriage and the pain of watching disease claiming the lives of each of our spouses.  Then he asked me out to dinner…and the rest is history.
In our all-too-short relationship, we shared so much, adventure, laughter and above all, love.
His celebration of life will be about his enormous heart; the love he had for his family; the fierce pride for Campbell Bus Lines and the dedication of his employees; the joy he felt behind the wheel of his favourite truck, rolling down the highway humming along with Willie's Roadhouse; his devotion to his beloved poodles who went everywhere with him; and the gratefulness he felt towards the doctors, nurses and staff of our local Huntsville Hospital.
Please join us for food, photos, favourite stories, music, laughter and, above all, love!