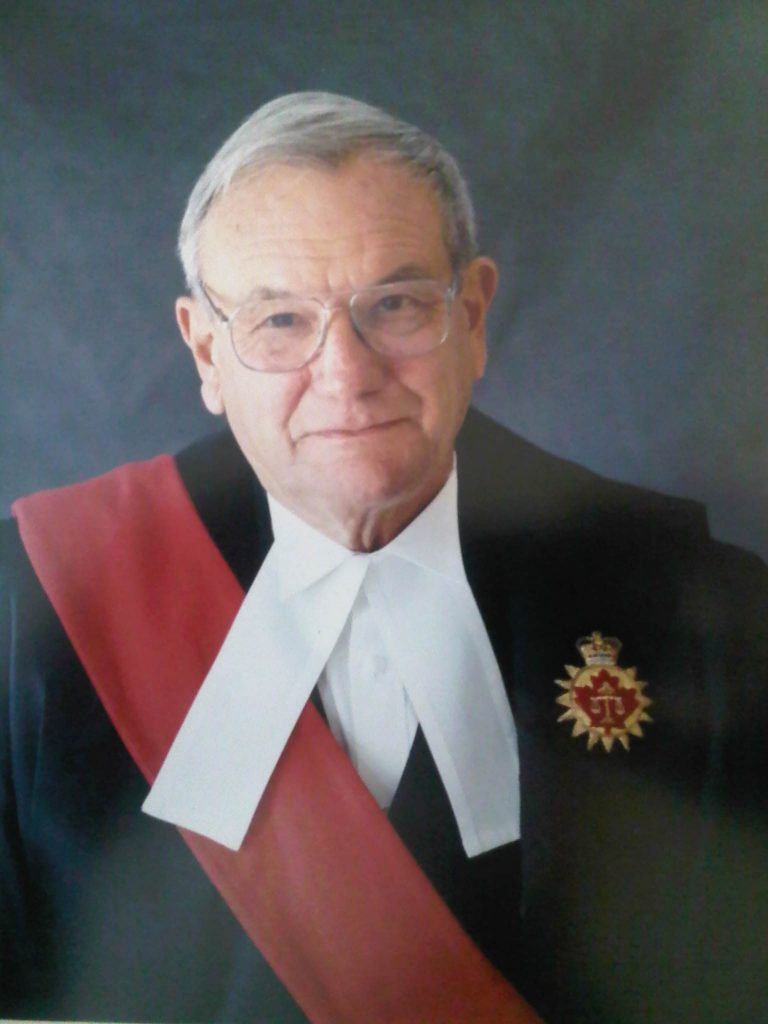 HOGG, Honourable Stanton Bardsley
Born in Toronto, August 17, 1929; died in Algonquin Grace Hospice, Huntsville, April 14, 2013.  Beloved husband of Elspeth; treasured father of Dr. David Hogg and his wife Dr. Denise Sequeira in Toronto, John Hogg and his wife Laura in Kanata and Andrew Hogg and Mary Lynn Allen of Calgary; devoted grandfather of Stanton, Gillian, Genevieve, Allison and Cameron.
A graduate of Trinity College, University of Toronto and of Osgoode Hall Law School, Stanton was an Assistant Crown Attorney for the County of York and then practiced as a criminal defense lawyer in Toronto.  Appointed a federal court judge in 1973, Stanton sat in Toronto and Bracebridge and frequently travelled to other courts around Ontario.  A fair-minded man with a love of the law and a firm belief in the importance of justice for all, Stanton worked to ensure that all people who appeared before him understood the court procedures and believed their issues were considered fairly and their interests protected.  He retired as a Superior Court Judge in 1999 after 26 years on the bench and had a happy retirement at his home on Mary Lake and his winter cottage in Weeki Wachee, Florida.  In his last years Stanton lived with Alzheimer's Disease yet never lost his cheerful enjoyment of life.
As a young man Stanton was commissioned as a s/Lieutenant in the Queen's Own Rifles of Canada. During his years of service he rose to the rank of Major. He believed in the importance of citizen participation in military service and had a continuing interest in military issues after his retirement from the militia.  Stanton had a lifelong love of the outdoors, canoe tripping with his sons on northern rivers, racing Albacores in the Port Sydney Yacht Club (where he was a founding member) or simply paddling his canoe with his wife and a dog on Mary Lake.
A  Memorial Service will be celebrated in the chapel of Trinity College, 6 Hoskin Avenue, Toronto, Friday, April 19, 2013 at 11 a.m.  The service will be conducted by the Reverend Canon Susan Sheen, Stanton's dearly-loved cousin.
A celebration of Stanton's life will be held in Muskoka in the early summer.
If desired, donations in Stanton's memory may be sent to Algonquin Grace Hospice or to Huntsville District Memorial Hospital Foundation at 100 Frank Miller Drive, Huntsville, ON P1H 1H7.