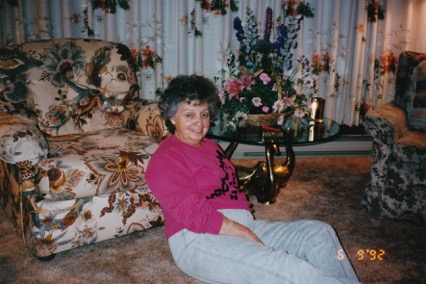 On April 8, 2015, our sweet Adrienne Hamilton (Angelo) passed away as she had lived: peacefully.
 Adrienne Virginia was born in Toronto on September 5th, 1927 to Michael and Rose (Ungaro) Angelo.  She was the loving sister of the late Michael Jr., Iris and Eugene. Her husband Andrew P. Hamilton, great nephew Jacob Parke, brother-in-law Pat Parke, stepson John Hamilton and most recently her sister-in-law Helen Angelo predeceased Adrienne.    
 Left to cherish her memory are: daughter and son-in-law Flora and Andrew Hamilton (daughter Natasha , husband Scott and their children Meaghan, Liam, Katie and Callum), daughter-in-law Betty Craig in Scotland (daughter Linda, husband David and their daughter Kirstie), daughter- in- law Valerie MacGillivray in Scotland (sons Jason and Dale), daughter–in-law Audrey Hamilton, partner Yvonne in Badjeros Ontario, Andrew, son of the late John Hamilton.  Also missing Adrienne are her nieces Kathlyn (husband Karl and furbaby Sophie), Kim (husband Doug and their children Evan and Kieran): nephews Michael (wife Karen and their children Ryan and Karlee), Kerry (wife Roseanne and their children Connor, Taylor and Chara), Kevin (wife Janet and their children Mathew, Sarah and Alison) and Kelly (wife Lorraine and their daughter Catherine).  Adrienne is also survived by her maternal cousins Nancy (Sister Mary CSJ) and Jasper Fatta.    
 Before retiring to Port Sydney, Adrienne and Andy lived in Toronto where Adrienne worked at Goudey's Paints for 50 years.  She is still fondly remembered by employees there for her work ethic and easy going personality.
 Adrienne and Andy married on October 9th, 1981.  As their years together went by and it was time to leave the house in Port Sydney, it was Andy who chose Chartwell as their next home.  Sadly, Andy passed away before they had the chance to move in, but Adrienne fulfilled their dream to live there and what a lovely time she had.  Adrienne made many meaningful friendships in Port Sydney and at Chartwell and those friends will miss her dearly.
 All who knew Adrienne's gentle soul were struck by her unselfish and humble ways.  Her unassuming nature often belied her quick wit and dry sense of humour.  Adrienne was always up for an adventure whether it was a simple car ride, outings arranged by Chartwell, a John McDermott concert, her Tuesday lunches with her ladies, a game of cards or bingo, a meal at East Side Marios or her weekly shopping trips in Huntsville.  She enjoyed several trips to Scotland with Andy and then with her sister-in-law Helen in 2010. Every family member however, knew not to call Adrienne Sunday mornings.  It wasn't because she was away, attending church service.  It was because she was a faithful Coronation Street fan and her Sunday morning involved cups of tea, toast and a few lovely hours of Coronation Street.
 Adrienne embraced a love of Scotland but never forgot her Italian roots.   And while she never travelled to Italy, she loved nothing more than her sister Iris's cooking and never met a pasta she didn't like.
 Adrienne was an ever-consistent witness to all the important events such as births, weddings and for the more solemn times as well.  She was such an integral member of our family and for those of us who have had Adrienne's presence in our lives since birth, it is difficult to imagine the loss of her steadfast devotion, love and gentle spirit.   We are so very grateful for the loving memories we have made with her over our many years. 
 Thank you to nurses at the Huntsville Hospital who cared for Adrienne during her several hospital stays.
 Adrienne was especially grateful to her Closing the Gap nurses Sarah McDonald, Bev Mapleson and the others who so lovingly cared for her over the years she lived at Chartwell.   
 Thank you also to Chartwell staff who enriched her life with their friendliness and caring ways.  A special thank you to Lisa Mace, whose eyes were ever watchful of Adrienne's health.  We will always be grateful for your caring heart.  
 Please join Adrienne's family for a service of remembrance at Knox United Church in Port Sydney on May, 20, 2015 at 10:30 am.   Lunch will follow at the church.   Interment will take place at Stephenson Township Cemetery at 1:00.  Please wear bright colours in to reflect Adrienne's sunny outlook on life.