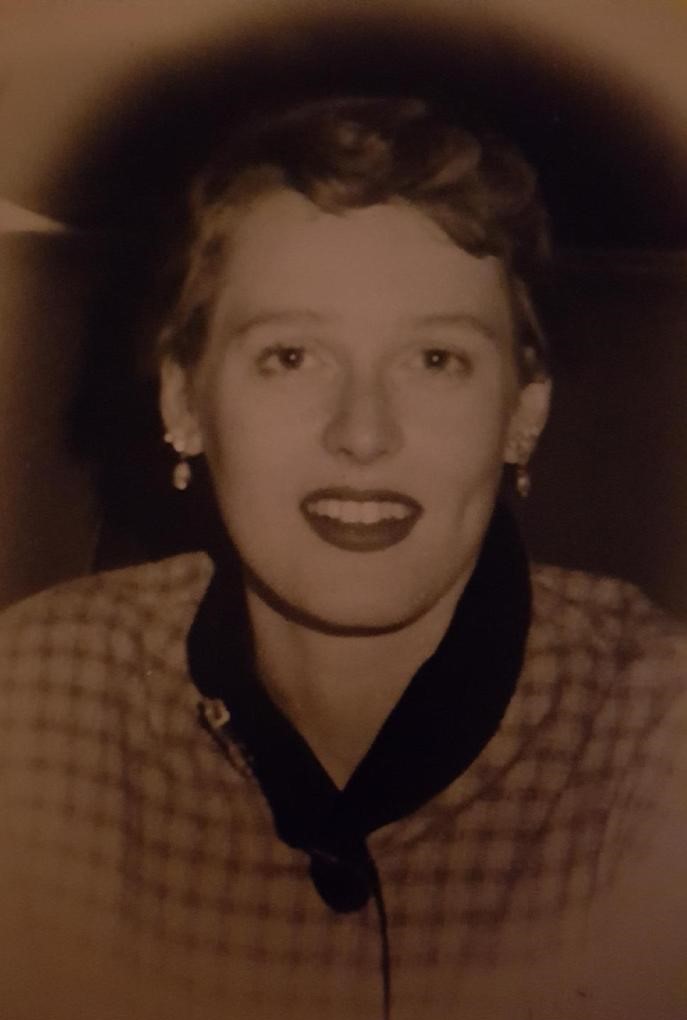 Alice Jean Gwyn (Gay) Waddington died peacefully, surrounded by her loving family, at Muskoka Landing Nursing Home in Huntsville, Ontario. Jean was age 89.
Jean was born in Granby, Quebec on December 26, 1927 to Alice Sadler Ruth(MacDonald) Gay and John Glen Gay. Jean had a very happy childhood, and was especially attached to her grandparents and many relatives in Granby, Quebec. 
During the war, the family moved to Ottawa, where she attended Lisgar Collegiate Institute in 1941-46. She then went on to McGill University, achieving a Bachelor of Science in 1950 and a Bachelor of Library Sciences in 1951. 
After graduating, Jean worked at the CNR Research Laboratory and Library in Montreal, where she met her husband-to-be, Roy Stanley Waddington, in 1952. The two were married on October 10, 1953. Their children, Donald Roy, Anne Gwyn and Victoria Ruth were born over the next nine years.
Jean was a devoted wife and mother. Her family's needs were always put before her own. She dedicated much of her time and effort to raising her three children, keeping a lovely home, and making life pleasant for those around her. 
As a former librarian, Jean's house and life were beautifully organized. She quickly learned to cook her family's favourite meals, and over the years she became a fabulous cook who loved trying new recipes to suit her family's tastes and needs. She sewed clothes and curtains, volunteered at the local public school library, and made every holiday special for those she loved. Her cookie jar was always filled with home-baked cookies, which were especially loved by her children as an after-school treat with a glass of milk.
Jean was extremely proud when each of her children married – Don to Susan Luther in 1979, Anne to Bob Emptage in 1980, and Vicki to John Fioretti in 1981. She was a wonderful mother-in-law who enjoyed visiting her children and their spouses in their homes.
Jean was especially delighted when her grandchildren, Chris and Laura Waddington, Beth, Glen and Emily Emptage, and Sophie, Michael and James Fioretti were born. She was a loving Nana and made special time for each of her grandchildren.
Jean and Roy loved to travel and spent considerable time in Nairobi, Kenya. They also travelled throughout the United States and to Mexico, Cuba, Portugal, Italy, England, Scotland, France, Germany, Australia, Bermuda, Brazil any many of the Caribbean Islands.
In the recent past, Jean was thrilled when each of her six beautiful great-grandchildren, Vanessa Waddington, Olivia and Alison McCague, Sadie Emptage, and Jack and William Mansson, was born. She delighted in watching the little ones play. 
As a daughter, wife, mother, grandmother, and great-grandmother, there was none finer. Her love and dedication provided her family with a wonderful example of how to live and give with grace and dignity. Jean's legacy is her family, and she will be sadly missed by each and every one in the family. 
All throughout her life Jean was a voracious reader who loved libraries and books. With this in mind, in lieu of flowers, the family would appreciate any memorial donations be made to Huntsville Public Library, 7 Minerva St. E, Huntsville Ontario, P1H 1W4