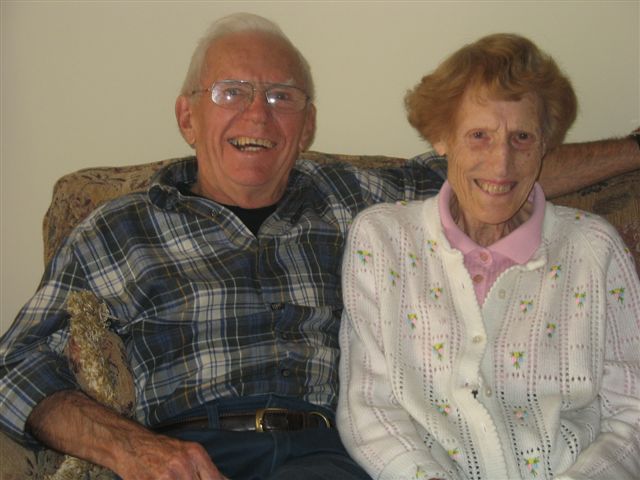 Bernice passed away peacefully on Thursday, May 17, 2012 at Algonquin Grace Hospice Huntsville, at the age of 90.  
She is survived by Wally, her husband of 60 years; daughter Karla Del Grande and her husband Al LePage, son Joel Peters and his wife Jayne, and son Dale Peters.  Grandchildren Jessica (and Jovey), Stacey (and Shawn), Dan (and Tanya), Marshall, Michael, Haley and Cooper.  Great-grandchildren Jason, Emily, Regan, AmberSky, Nick and Landon.
Bernice was born on September 8, 1921 in Saskatoon, Saskatchewan.  She and Wally moved to Ontario after they married in Saskatoon on February 8, 1952, raising their family in Burlington.  They enjoyed gardening, family camping trips and square dancing, and were involved in activities at Wellington Square United Church.  Bernice sang in the choir, performing solos, and also worked as a doctor's secretary.  After retirement they moved to Emsdale where they still enjoyed square dancing, also cross-country skiing and travelling in their motor home.  Their next move was to Dairy Lane in Huntsville where they enjoyed socializing with their condo neighbours.  Bernice was the youngest and last surviving of 7 sisters who grew up in a musical household.  They kept in touch through prolific letter writing over the years when they were spread out from B.C. to Ontario.
A celebration of Bernice's life will be held at Harmony United Church, Kearney on Monday, May 21st, 2012 at 3 o'clock.   Reverend Nina Filford officiating. A reception will follow at the church.
In lieu of flowers, donations to Algonquin Grace Hospice Huntsville, as a remembrance of Bernice, would be appreciated.  We thank them for the excellent care given to Bernice and our family.
www.hospicehuntsville.com  705-789-6878