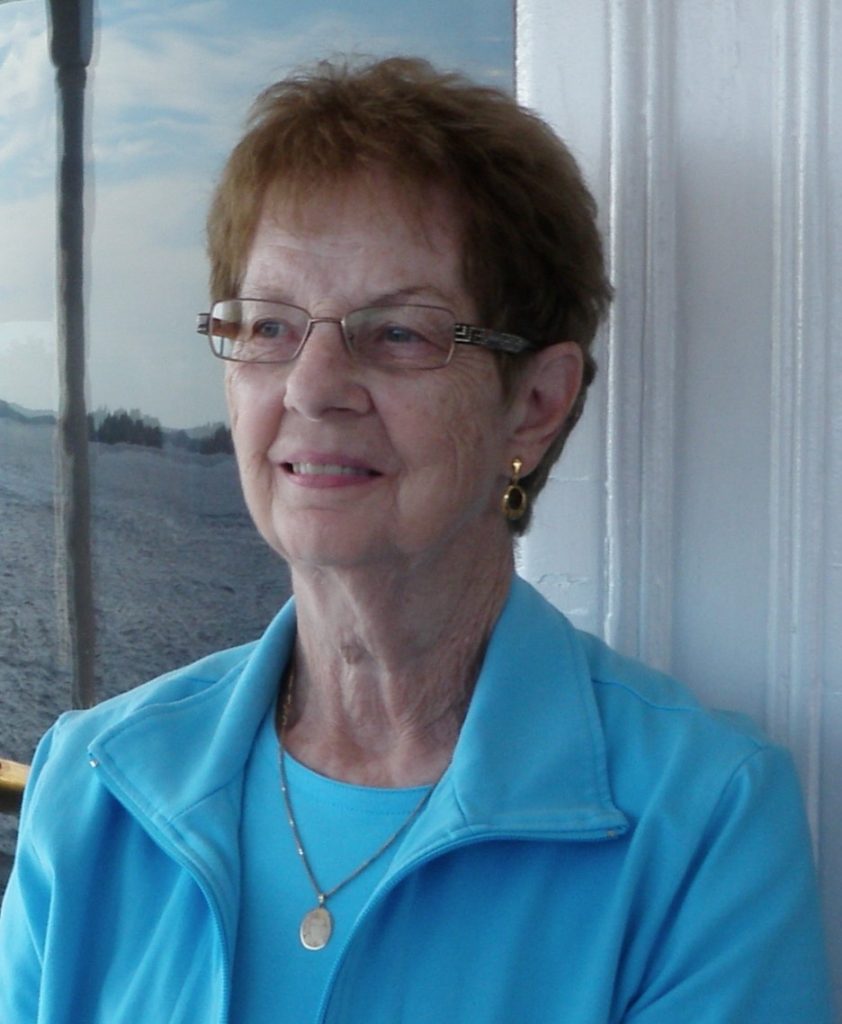 Betty Rae Bildson (nee Sweet), in her 85th year, left the physical world on December 30th, 2018 in the embrace of her daughters and surrounded by the love of her entire family, after a brief but critical illness which she met with courage and grace.
Predeceased by her adored and loving husband Gerald Ivan (Gerry) Bildson in 2006, it gives great peace and comfort to know that they have been reunited and the bond they shared that knew no bounds, lives on forever. Betty was an exceptional and loving mother to Beverley (Fraser) McFarlane, Catherine (Jack) Cardoso and Paula (Eyan) Wheatley. Her love for, pride in, and complete dedication to her children easily transcended to her grandchildren who were her greatest joy in life. She will never be forgotten and always be loved by Brittany McFarlane (Galen Burrows), Scott McFarlane (Rebecca) and Justin Cardoso. She also loved her role as step-grandmother in the lives of Earyn (Emma), Evan and Ryan (Jenna) Wheatley.
Betty was born December 10th, 1934 in Sweet's Corners, Ontario to parents Ray Wing Sweet and Zella Lee (Slack). Betty was the youngest of a large family and will be together again with her beloved brothers and sisters who have gone ahead. She is survived by one sister, Joan Tanton, of Puerto Vallarta Mexico. She also loved her extended family and has many treasured nieces and nephews.
Betty's love of family was without measure but she was also a much loved friend to so many. She gave selflessly to others her entire life and will be missed by so many people whose friendship she treasured.
Betty was a kindergarten teacher and also an accomplished pianist, singer and square dancer, a passion she shared with her husband for many years. Music always gave her great pleasure as did her faith and her church community. She sang for many years with the St. Andrews Presbyterian Church Choir, was a member of the Women's Missionary Society, and was a faithful long-time volunteer and auxiliary member at the Huntsville District Memorial Hospital. Betty recently received the Ontario Provincial Life Membership award from the Hospital Auxiliaries Association of Ontario presented in Toronto.
Those whose lives have been touched by Betty are blessed to have been a part of her life. She was someone who lived her values, always put others needs first and demonstrated what true love and dedication really means. She has set an example and left a legacy of goodness and love for all of us.
The family would like to thank the staff and physicians at the Huntsville District Memorial Hospital and Southlake Regional Health Center for their expert, compassionate and family centered care.
Visitation will be held at the Mitchell Funeral Home, 15 High Street, Huntsville on Friday, January 4, 2019 from 2 – 4 p.m.
A Memorial Service will be held at St. Andrew's Presbyterian Church, 1 High Street, Huntsville on Saturday, January 5, 2019 at 11 a.m. with a reception to follow in the church hall.
In lieu of flowers, donations to the Huntsville Hospital Auxillary would be appreciated.