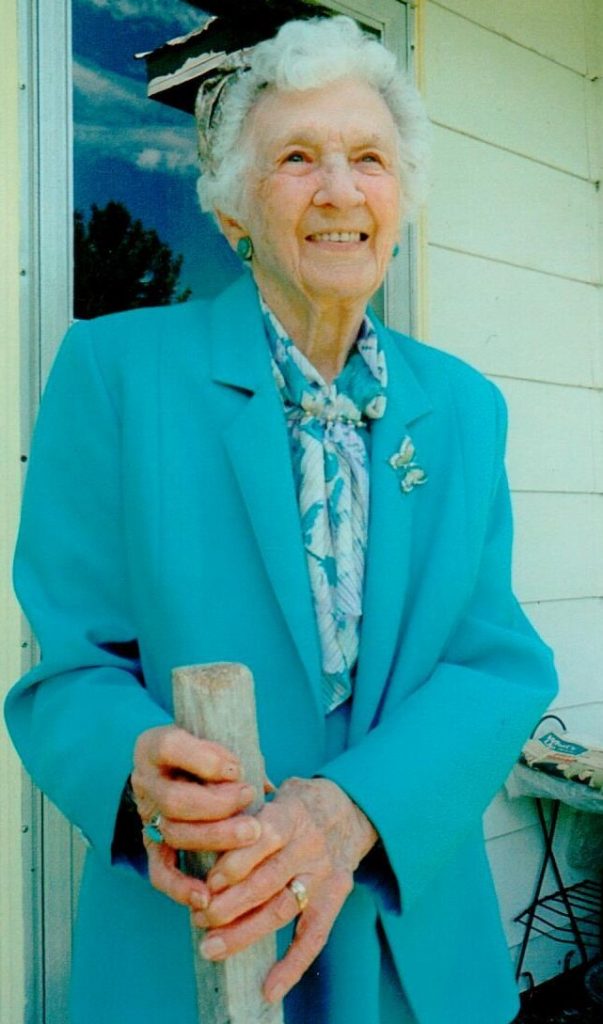 May 2, 1921 to January 1, 2018
Doris Stepped over Heaven's threshold in the early hours of January 1, 2018 at the age of 96. She had been a resident of Fairvern Nursing Home, Huntsville as a result of a stroke in April 2017.
She is now with the Lord she loved, her husband Lloyd Stevens, her sister Reta Knight (Myrl), Brothers Wesley (Elsie) and Douglas. Left to miss her is her daughter Joy Reid (Sherwood) and sister in law Elsie Carter, along with many nieces and nephews.
Doris was born on her family farm in Brunel Township and lived there until she moved into a new home just down the road. She was a mother, wife and a friend to many. She was a homemaker.
In her teens she worked as a domestic helper at several places and enjoyed an active social life with her friends. She met Lloyd Stevens, who had many things in common with her, and they married on November 14, 1941. They were married for 73 years. They lived on her family farm taking care of her mother and farming. She loved to garden and could hardly wait to get digging and planting, she had a large garden, both vegetables and flowers. She won many prizes at the fair. She also enjoyed sewing, knitting and crocheting. She was always busy and if someone needed her she'd be there.
Her church, Riverside Baptist (formerly Locks Baptist) was the centre of her life. She and Lloyd were charter members and part of the group who built the Locks Baptist Church. She served in many capacities and was the last charter member.
Life cares are not even a memory now as she has begun eternity with the Lord she loved.
Thank you to the amazing and loving care workers at Fairvern and Dr. Bastedo for making her remaining time comfortable.
A memorial service will take place on May 2nd, 2018 at Riverside Baptist Church at 2pm.
Donations can be made to The Gideon's in her memory.