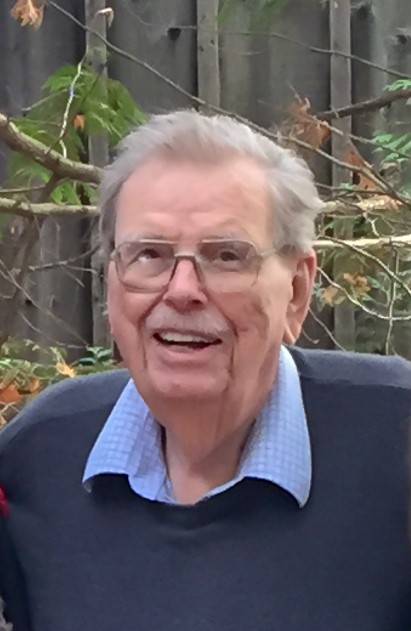 Geoffrey Moody Ascah
April 4,1921
Jan 2, 2018, aged 96
Geoff's family announces his peaceful passing on Jan 2,2018 at the Huntsville District Memorial Hospital, after a short illness. Beloved husband of Mary (nee Harper) who predeceased him and survived by his loving children John (Donna Ascah), Catharine, Jane, and Estelle (Dave O'Haire) , and grandchildren Colin and Kate Mackinnon, Rebecca and Victoria Ascah.
Geoff was born and raised in Farnham, Quebec and obtained his Medical Degree from McGill University in Montreal. He is a veteran of World War 2 having joined the Canadian Army Medical Corp in 1939 and served his country for the duration.  After further training in Internal Medicine he decided that urban life was not for him and more adventure was required so he headed up to Moose Factory in northern Ontario and started his first practice. There he met Mary and eventually together they settled and started a family in Wainwright, Alberta. In 1954 they made Huntsville, Ontario their permanent home. Geoff was a true old fashioned General Practitioner who did Family Practice, Emergency Medicine, Internal Medicine, Obstetrics, Anesthesiology, and Surgery and he finally retired with grace in his early 70's. In his latter years he often joked that he had seen so many changes in Medicine that he had become a living dinosaur.
Geoff will be remembered for his many contributions to the community of Huntsville. He was very active in the All Saints Anglican Congregation and attended services faithfully. He was an accomplished pianist and trombonist, playing in the Muskoka District Band and Muskoka Dance Band from their inception in the 1950's.  As he got older, Geoff would joke that he was the mascot for the District Band. He will also be remembered for all that he did for amateur theatre and musicals in Huntsville from the late 1950's and onwards.  He took on many different acting roles, both starring, big and small, in theatre and the first Huntsville Rotary Club Musicals. 
Geoff will be remembered for his passion and active participation in the Huntsville tennis, golf and curling communities. He first started curling in Alberta and was a continuous curler for over 60 years. When tennis became a rage in the 1970's he took it up with enthusiasm. Golfing became his most favorite activity and after retirement he played as much as he could as a faithful member at the Huntsville Downs golf course. He loved the water and having excellent carpentry skills he made many wooden boats, both sail and power. He was always game for fishing trips and spent countless hours on the Tim River in Algonquin Park. He also enjoyed duck hunting on the Naiscoot River north of Parry Sound surrounded by good friends.
Geoff was a renaissance man who made a rich contribution to arts, music, sports, and recreation. He had boundless energy, always a smile, and so many stories to tell. He had no desire to retire in the south or elsewhere as he thought Muskoka was paradise. He lived a long and good life.
Geoff's family would like to thank all who have taken care of him and helped him in his final days. There are so many of you, and thanks to you all. No flowers and donations to a charity of your choice would be appreciated. 
Visitation For Dr. Geoffrey Ascah will be held on Sunday, January 7, 2018 from 1-3pm.
Funeral service will be held on Monday, January 8, 2018 at All Saints Anglican Church, 30 High Street, Huntsville at 10:30am. Reception to follow at Sutherland Hall.