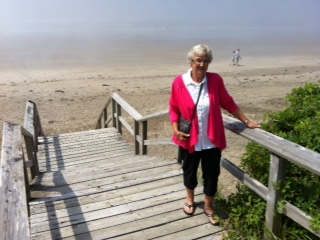 The death occurred at the Huntsville District Memorial Hospital on Tuesday, April 25, 2017 of Eva Leverman. Beloved wife of the late Bert Leverman and mother of Marie and Anne.
A Funeral Mass will be celebrated at St. Mary of the Assumption Roman Catholic Church, 12 Centre Street, North Huntsville on Monday, May 1, 2017 at 11 a.m.  A reception will follow in the church hall.
In lieu of flowers, a donation may be made to: 
 Saint Brother André 
https://www.saint-joseph.org/en/your-support/
or the CNIB
The family has provided a heartfelt message from Anne, Mel, Nicole and Marie:
It is with deep sadness to say that mom passed away on Tuesday April 25. We were with her and she felt all our love and support from her family and friends.
She suffered a sudden massive stroke on Sunday afternoon and was taken to Huntsville Hospital. Although she did not regain consciousness, we feel that she knew we were there. She passed away peacefully, in no pain and we were there by her side holding her hand. We do feel some comfort in knowing that she is now with our dad.
For our Huntsville family and friends, there will be a funeral mass and reception on Monday May 1 at St Mary of the Assumption at 11:00 am. 
For our Toronto family and friends, a memorial gathering will be held in Toronto on Sunday, June 11th from 1-3pm. Please post a message on our website with your name only if you wish to attend and a family member will contact you with the details.
 We hope you will join us in celebrating mom's wonderful 88 years of life. She was blessed with many friends, near and far, and a beautiful granddaughter, Nicole (age 20). Her favourite place in the whole world was Mavillette Beach located in the Yarmouth and Acadian Shores region in Nova Scotia – a few miles from where she was born and lived.  Our family holds many years of fond memories on this beautiful beach. 
88 pictures for 88 wonderful years with friends, family and loved ones.  God Bless. 
https://drive.google.com/open?id=0B2zwZbRtQxBORldWczdUYlRNbEk   
Great sadness and love.
Je t'aime grand-mère