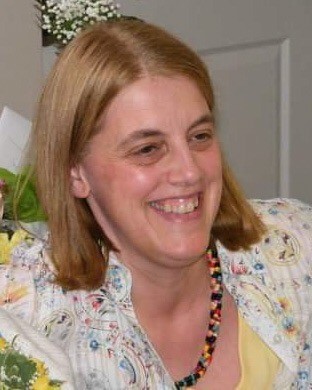 Florence "Flo" May Osmond
May 11, 1961 to November 1, 2018
Florence passed away at Algonquin Grace Hospice, Huntsville on Thursday, November 1, 2018 in her 58th year.
Daughter of the late Gerald and Osta Osmond. Loving sister of Mary and her husband Glenn Watson of Utterson, Dwight Osmond of Huntsville and Sheldon Osmond of Toronto. Dear aunt to Kurtis and Benjamin.
We would like to extend our sincere gratitude to all of Florence's friends and family members for their unfailing support and also to the incredibly compassionate and caring team at Algonquin Grace Hospice. She left this world knowing she was well loved.
We'd like to share a section from Florence's "Dignity Questionnaire" which she composed at the Hospice a few days before her passing.
"I grew up in Huntsville and was born in the old hospital which is now Fairvern. I went to school here including Georgian College in Bracebridge for the PSW course. I was also in Moosejaw, Sask. from about age 22 to 26 at a little Bible College there; I loved it. The advantage was I got a BA degree which allowed me to work at Camp Tawingo since they favour degrees there.
How did I end up in Moosejaw? Well, we were brought up in the Free Methodist Church and at a gathering, a couple of girls and I decided to go out to the the Bible College. From there, I was the Food Service Director at Camp Tawingo and was there for 17 years – it was a very big job with long hours and a lot of responsibility. I lived there, had room and board, I never wasted my money, so I was able to save money. I owned my own home. 
One day I'd had enough of camp. I went to work doing private home care for a couple in their 90's who lived on an island. Money was never the end-all and be-all for me. I did the PSW course at Georgian in Bracebridge and started with Muskoka Landing in 2001, part-time and eventually full-time. 
What I've found meaningful is my work there. The staff and the residents were just the best to work with. The residents, you can't not just love them, some of the things they come up with! I would try and stick with the ones who had no-one, it's not fair for people to be alone – it's an important part of the job.
People wondered if I'd go get more education to be an RPN or RN, but no, I wanted to have free time. I was happy doing what I did. And I wanted time to do other things, to have my life be more mine. I was in the Community Choir right from the beginning; I love singing. I was in the Huntsville Community Policing for several years; I'd heard about it and thought "that looks different" and joined up. We worked along side the OPP doing safety things, like bike rodeos, the Kids' Tri in Port Sydney, reminding them about helmets and so on. I also volunteered at the Restore too.
It seems my life has been cut short. I was diagnosed with cancer in 2004, and had 3 recurrences – I always hoped it wouldn't come back and this time, it's the worst. But I have enjoyed myself, I'm not a big hero. It wasn't in the cards to have a partner. I'm basically just a happy good-natured person. I would never hurt anyone.
The most important thing is family – I have an older sister (Mary) and brother (Dwight), a younger brother (Sheldon), 2 nephews (Kurtis and Benjamin) and a brother-in-law (Glenn). We take care of each other. Mary especially always took care of me, even before I was sick.
My advice to others – boy, life is so difficult for young people, sometimes they don't have gumption. I'd say to them to have the courage just to do things.
I'm still religious – I know God is there and wants to protect me."
 Visitation for Flo Osmond will be held at the Mitchell Funeral Home, 15 High Street, Huntsville on Monday, November 5, 2018 from 6-8 p.m.
A Graveside service will be held on Tuesday, November 6th at 2:30p.m.  in Hutcheson Memorial Cemetery, Muskoka Rd 3 North (the grave is in the back section of the cemetery).
 Following the graveside service, a reception will be held at Faith Baptist Church, 169 West Road, Huntsville (commencing at approximately 3pm).
In lieu of flowers, donations to the Canadian Cancer Society or the Algonquin Grace Hospice, would be appreciated.