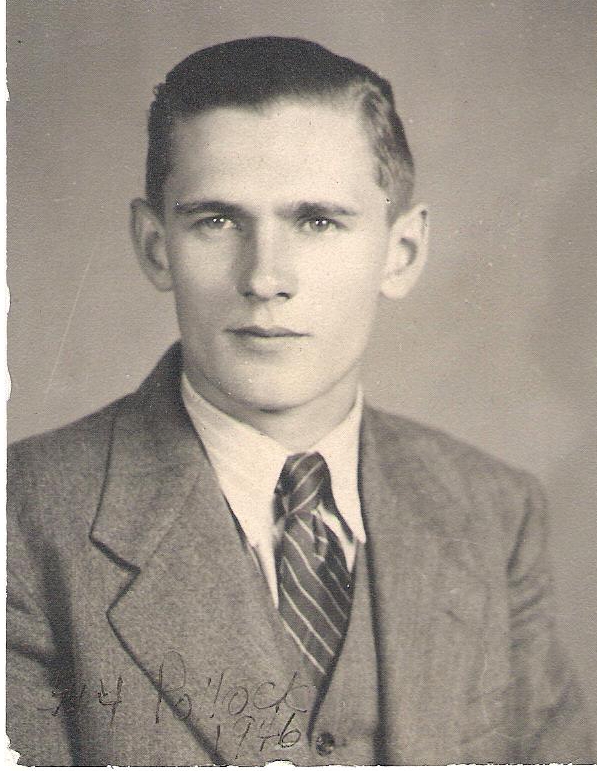 The death occurred on July 1, 2014 at Huntsville District Memorial Hospital of Guy William Pollock,  at the age of  88. Guy was predeceased by his wife of sixty years, Isabel Teresa (Firth), in 2007, and is survived by children Carol and Barry (Jan) and grandchildren Jackson and Jasmine Last and Neil and Kaitlin Pollock.
Guy was born on July 18, 1925 in the village of Glenlevit, New Brunswick. Eager to see the world, he fudged his age to join the army as the Second World War raged in Europe. Despite his father's protests at the recruiting office, he was sent to boot camp in Ontario for training in the artillery, and on his 18th birthday was given his orders and shipped to Sicily. He took his place on the big guns and spent most of the war in Italy; he was marching towards Holland when it ended in 1945. He said every day after surviving the war was a gift, and he treated life that way. He became an advocate for peace and never owned a gun.
Guy met Isabel in Timmins, ON after the war when he was asked to pick her up at the train station. "The most beautiful thing I ever saw," he later recalled. Together they formed a bond that spanned the decades as Guy followed the booming mining industry across the country, from Timmins to Yellowknife, and Atikokan to Bancroft, in Canada's post-war expansion of its resources. His favourite job was exploration mining as part of a two-man crew camping on the side of a mountain high above Revelstoke, B.C. Accessible only by helicopter, he and his partner would sometimes see grizzlies roaming in a distant valley when the clouds below them broke. His home movies of his time there show his appreciation for the surroundings and the wildlife that he observed there, from lumbering grizzlies to scampering picas.
A devoted family man, Guy once said that the most interesting thing you could do in life was watch your children grow. A great crooner, he spent time singing and reading to them when they were young and later shared conversations both intimate and worldly with them. By example he taught them the principles of equality and justice for men and women alike. He was naturally reserved, but the extended family remembers his great sense of humour and just how much fun he could be.  A lifelong learner, he never stopped reading about everything from politics to philosophy to baseball. He was a great resource who could always help you finish a crossword puzzle with his extensive knowledge. Who else could tell you what an oast was? 
Above all, he was a humble man with a good heart who always made sure everyone else was served first. At his request, no funeral service was held.
Our house seems empty without you  Dad.