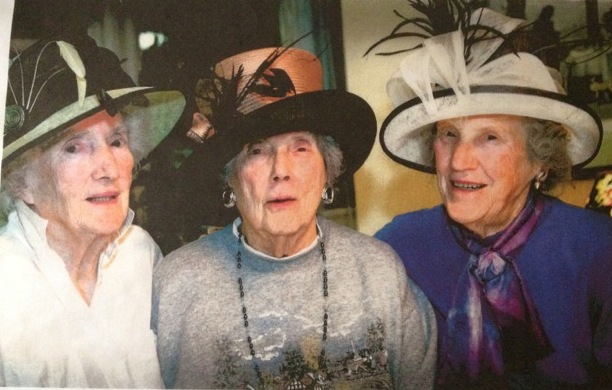 1921 – 2015
Jean Hunter, the youngest of the "three sisters", died peacefully surrounded by her family on May 15th.  She was the last surviving member of the Hunter family having been pre-deceased by her sisters Patricia Alcock and Margaret Binns, her brother Barry Hunter and parents Ruby and George. She was the beloved aunt to John (Angie) and Peter (Leona) Gardner and to Stephen (Jody), Chris (Bonnie), David (Jennifer) and Nancy (David) Alcock . She also leaves behind, and will be greatly missed by, a large collection of great nieces and nephews.
Jean had a long and eventful life.  She grew up in Toronto and worked in Chalk River, Oakville and Ottawa before settling in Muskoka.  While in Chalk River, Jean honed her acting skills in several Little Theatre productions and over the years continued to amuse her family and friends with her impersonations.  Her years in Ottawa working for the Centennial Commission were some of the most exciting and rewarding of her career and allowed her to exercise her great love of people and parties on a national scale. Jean liked nothing better than to dress up for a great party and was excited by any event that would allow her to unwrap one of her many outfits that she saved over the years and never outgrew. She loved to have fun.
Jean made a major life change in 1972 when she started the Village Place antique and gift shop in Port Carling with her sister Margaret. While this was a significant professional change Muskoka was where she felt she belonged.  From her early summer years on Lake Joseph, to her time working at Limberlost Lodge, Jean always loved the outdoors. Whether swimming, skiing or hiking, Muskoka was in her soul. She felt that she was the luckiest person in the world to live where she did.
Her business career did not end when they sold the Village Place, as Jean and her sisters bought Gryffin Lodge in 1980. At a time when most people contemplate retirement they needed a new adventure.  It was certainly that. On more than one occasion they acknowledged that it reminded them of "Faulty Towers"! With the sale of the lodge in 1987 her business career ended. This is not to imply that she slipped quietly into retirement as this does not do justice to the many interests that Jean and her sisters pursued in the last 25 years of her life. Whether writing letters to her MP or circulating petitions calling for change, Jean remained engaged.  The family is happy to report that this continued until the last few days of her life.
Jean spent the last two years of her life in the Pines long-term care residence in Bracebridge. She had the support of some truly caring and lovely staff and the family is grateful for their care. The family must make specific mention of the truly extraordinary care and support that Jean received over the last 10 years from Maggie West and Judy White. They were a constant force that cared for and enriched her life.  
A private celebration of Jean's life will be planned for September. Those wishing to honour Jean's life are encouraged to donate to the Nepal disaster relief fund.