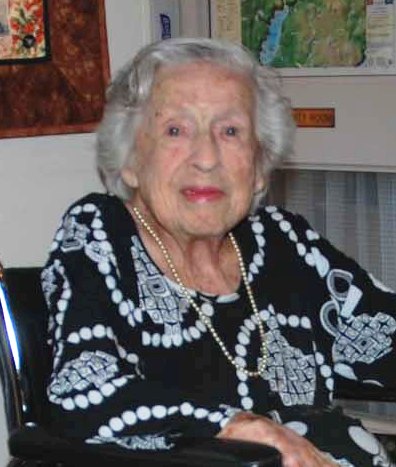 Passed away peacefully, at her home at Roger's Cove Retirement Residence in Huntsville, on Thursday, February 5, 2015, in her 106th year.
Jean Waterhouse, Co-owner, and Manager of Deerhurst Inn from 1946-1971, with her beloved husband, the late Maurice Waterhouse. Pre-deceased by her dear brother George MacKay of Toronto. The Waterhouse family's matriarch was a loving stepmother to Bill Waterhouse of Huntsville, and the late John Waterhouse of Toronto. Proud grandmother of Sally Waterhouse of Peterborough, Bob Waterhouse (Linda) of Dundas, William Waterhouse of Vancouver, Tracey Waterhouse of Vancouver, Julie Colvin (Marc) of Calgary, and Jeremy Waterhouse of Vancouver. Great grandmother to Lindsay, Tristan, Braydn, Kyler, Ryan, Brandon, Cody, Brittany, Emma, and Will.
Special thanks to Julie Groomes for her many years of  devoted, compassionate care, and to the staff of Roger's Cove Retirement Residence.
A graveside service will be held at Hutcheson Memorial Cemetery on Friday, May 15, 2015 at 1 0'clock.
 If desired, as per Jean's wishes, donations may be made to the Huntsville Hospital Foundation.