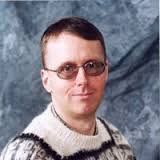 Nigel Tappin passed away at Huntsville Hospital early on March 14th, 2016 after a long and
courageous fight with cancer. Born October 24th, 1961 in London, England, Nigel moved to Canada with his family in November of 1966. Nigel lived in the North York area of Toronto until moving to Dorset in 1974. After graduating with Honours from Dorset Public School and Huntsville High School, Nigel went on to earn an Honours Bachelor of Science degree in Economics with a History saturation from MIT in Boston. He then earned both a Masters of Political Science degree and a Masters of Library Science degree from the University of Toronto and an external Bachelor of Law degree from the University of London in England.
In his late teens and early twenties Nigel was an avid runner but was sidelined when he developed fibromyalgia. He worked at the North York Public Library until developing fibromyalgia and then resigned and moved to Dwight where he served on the board of the Dwight Public Library. Nigel worked at Huntsville Public Library for many years until November of 2011 when he accepted a position as head of reference services at the Manitoba Legislative Library. After becoming ill, Nigel resigned his position in October of 2013 and returned to Huntsville to be with his family.
He was diagnosed with a particularly aggressive form of cancer in December of 2013. Nigel underwent radical surgery followed by six weeks of radiation early in 2014. During his recovery he returned to the Huntsville Public Library as a temporary contract worker; did online tutoring and published a book entitled Kill Him Again: Fifteen Variations on a Country House Murder which he had written earlier in his career.  In his off time he enjoyed reading mystery novels.  He was a member of the Crime Writers of Canada and served on a committee judging mystery writers with the recipient receiving the Arthur Ellis Award for mysteries. 
He himself had written numerous non-fiction and some novels and countless reviews and features for Mystery Review, the Library Journal and American Reference Books Annual. He also served the central east region of the Ontario Public Libraries Association Council.
 After a while it seemed that Nigel might have succeeded in beating the odds but his cancer returned late in 2015 and on December 22nd, 2015 he learned that this time it was both inoperable and terminal: a diagnosis which he accepted uncomplainingly and without self-pity.
Nigel will be sadly missed by his parents Graham and Sheila Tappin of Huntsville; his brother Stephen Tappin and his wife Pamela Morgan of Pickering and his sister Sheena Tappin of Huntsville. Nigel is also dearly missed by his nephews: Alexander Tappin and his wife Alina Ianovskaia of Ottawa; Karl Tappin and his wife Amber Shultis of Keswick; and Alex Morgan of Pickering. Nigel leaves numerous cousins in England and the many friends and colleagues whom he has met throughout his life. The family sends many thanks to all the caring and talented doctors and nurses who worked so hard to support Nigel in his struggle with this horrible disease. We would also like to send a sincere thank-you to the caring and selfless cancer care drivers, who transported him to and from his appointments in Toronto, no matter what the time of day or how bad the weather.
As per Nigel's wishes there will be no funeral service and cremation has already taken place with arrangements entrusted to Mitchell Funeral Home.  
A service to celebrate Nigel's life will be held at the Sutherland Hall of All Saints' Anglican Church, 30 High Street, Huntsville on Saturday April 9, 2016 commencing at 11 a.m. with a reception to follow.
 If desired, in lieu of flowers a donation to SGI Canada; Friends of the Huntsville (ON) Public Library; or Huntsville Cancer Care would be appreciated by the family.