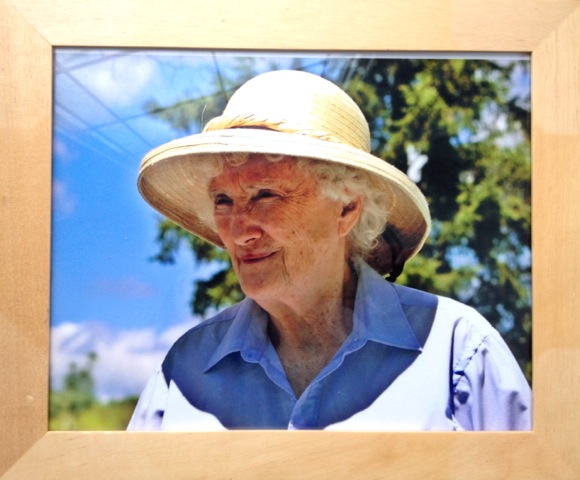 Pat died peacefully, surrounded by her family, in Bracebridge, Ontario on New Year's Eve 2014. She spent her life advocating for issues related to peace and social justice. From her early days with the Christian Youth movement and right through her adult life supporting the worldwide peace movement as a founding member of the Voice of Women for Peace and the Canadian Peace Research Institute; it was a flame that never dimmed. Until her final days, she was writing petitions and letters of outrage at whatever injustice struck her as needing a voice.  Pat was a remarkable woman in every respect. She was kind, wise, funny and welcoming to all. It was her amazing capacity for warmth and compassion that created a refuge for so many seeking a safe haven. She loved the winds and the water of Georgian Bay and would often capture those feelings of joy in her paintings. Her life was like a ship that left a long and wide wake.
She leaves behind her beloved sister Jean, her children Nancy, David(Jennifer), Stephen(Jody) and Chris(Bonnie). In addition to her grandchildren Nathan, Joshua, Sophie, Benjamin, Tomas and Timage and great grandchildren Eli and Rayah, Patricia leaves her many nieces and nephews, including Linda and Karen, Peter and John(Angie), who loved and supported her throughout her life. Pre-deceased by her husband Norman, sister Margaret, brother Barry, son-in-law David and niece Leona. She received extraordinary support from her faithful caregivers Maggie West, Judy White and Dr. Helen Dempster. Patricia also had many friends and extended family who will miss her greatly.
Contributions in lieu of flowers to Project Ploughshares, 140 Westmount Rd. North, Waterloo, ON N2L 3G6, Council of Canadians, 300-251 Banks Street, Ottawa, ON K2P 1X3 or any other NGO pursuing peace and social justice would be appreciated.
There will be a service in celebration of Patricia's life in the Port Sydney Community Centre on Saturday, March 28th at 12:30 pm.