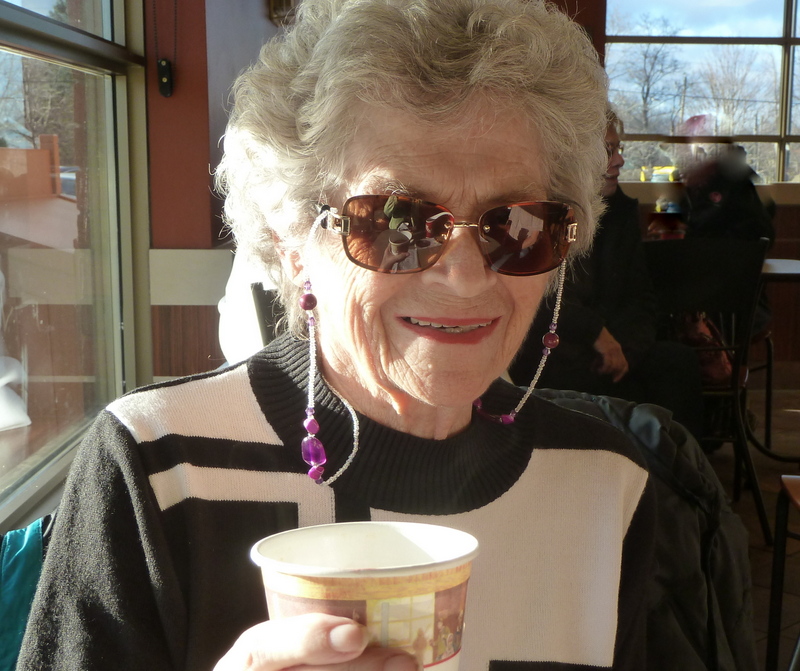 Ruth Viola Niedzwiecki died on Friday, October 20, 2017 at Campbell House Hospice in Collingwood. She was surrounded by family and under the compassionate care of hospice staff and volunteers. 
Born in Allensville, Ontario to Arthur and Edith Grimes on May 29, 1931, Ruth was proud of her deep Muskoka roots. The Grimes family settled in Utterson before Confederation and her great-grandfather Lucius Grimes built the first store in Huntsville for the Scarlett Brothers in 1871. Her father and uncle were local entrepreneurs and Uncle Seth was an automotive industry pioneer.
One of the most enduring griefs in Ruth's life was the loss of her mother when she was just 21 years old.  She missed her mom every day of her life.
She married her sweetheart and WWII veteran, John Niedzwiecki on October 2, 1948 and started their family shortly after.
As a child Ruth contracted rheumatic fever which damaged the valves of her heart. That too had a lasting effect on her life. Long hospital stays followed the birth of each of her five children and a number of open heart surgeries threatened her life for all of her life.
Ruth wasn't an enthusiastic cook but she loved making Christmas cake. John had to stir the thick batter because she just wasn't strong enough. Some years the cake was a huge success; other years it was not. But the family loved those cakes, which Ruth doled out carefully to make them last all year.
After her youngest child went to school Ruth went to business school in Toronto. Following graduation she worked first at McLean Hunter and then helped launch Huntsville's Kimberly Clark plant. She started as a secretary for Doug Millikin and retired as the Director of Human Resources. Ruth's work was a source of great pride. Over the years numerous people have expressed gratitude for Ruth's role in their working lives.
Ruth loved her community. She was a past president of the Chamber of Commerce and served Fairvern Nursing Home for 35 years. She was a founding member of The Catholic Women's League for 60 years
Ruth is predeceased by her husband John, her sisters Jean and Dorothy, her brother Ray and her infant grandson Shane.
She is survived by sisters Shirley, Maizie, Pat  and her half-brother Paul. She is survived by her children Dale (Jim Hajas) Georgina (Doug Smith) John (Susan Godfrey) Hope (Gary Mountjoy) and Dean (Darlene Nickerson) as well as by grandsons Kyle, Philip, Joshua and Keelan and great granddaughter Arianna-Hope. She is fondly remembered by Doug's children Pat, Mike and Leslie and Doug and Georgina's grandchildren Meaghan, Liam, Chloe, Tyler, Gabriel and Annabel.
Ruth's family will be forever grateful for the compassionate, dignified and loving care mom received from the staff and volunteers at Hospice Georgian Triangle (Campbell House)  in the final week of her life. We offer a sincere thanks to Sunset Manor LTC staff and a special group of caregivers – Ava, Shivraj, Beth, Leanne, Donna, Marjorie and Jean – who helped us care for mom. So many of them came to love mom and we love them for that. Dr. Anne Engell was a tireless advocate for Ruth and a trusted support for the family.
Visitation will be on Wednesday October 25, 2017 from 2 p.m. to 4 p.m. at the Mitchell Funeral Home, 15 High Street, Huntsville, Ontario.
A Funeral Mass will be held at St. Mary of the Assumption Roman Catholic Church, 12 Centre Street North, Huntsville on Thursday October 26, 2017 at 10 a.m. followed by a luncheon in the church hall. 
Donations in lieu of flowers are appreciated:  Hospice Georgian Triangle (Campbell House) in Collingwood or Algonquin Grace Hospice in Huntsville or the Ontario Alzheimer Society.  
https://app.etapestry.com/onlineforms/HospiceGeorgianTriangle/RegDonation.html
http://www.hospicehuntsville.com/wp-content/uploads/2013/01/Hospice-Huntsville-Donation-Form-January-2017.pdf